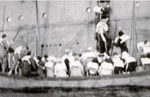 Abandon ship! Carrying civilians in 1941, the Zamzam was attacked and disabled by Atlantis, a German raider. A cunning photographer led to eventual revenge.
Short Version, Long Story
In 1941 a German surface raider, Atlantis, sank the Zamzam, a civilian ship bound for Egypt. Most of the passengers survived and were picked up by the Atlantis.
A passenger, David Scherman, an American photojournalist, snapped away even as he was being captured. The Germans confiscated his film, but he smuggled a few rolls out.
His photos enabled the British to identify and then sink the Atlantis.
---
Publish and Perish
The Zamzam was an Egyptian vessel which departed New York in March 1941 bound for Alexandria, Egypt with approximately 200 passengers, mostly Protestant missionaries. Two dozen volunteer ambulance drivers from the British-American Ambulance Corps were also aboard, along with two journalists: war correspondent David Scherman, of Life magazine, and Charles J. V. Murphy, an editor with Life's sister publication, Fortune magazine. 
The Atlantis attacked on April 17, 1941.
After retrieving the survivors from the lifeboats and the sea, the Germans scuttled the Zamzam.
Scherman handed his film to his German captors but he concealed several rolls by hiding them in plain sight, in toothpaste tubes and shaving cream dispensers protruding from his shirt pocket. Scherman also refrained from volunteering the fact that he was Jewish.
After his release, Scherman sent his photos to Life and on June 23 the  magazine published the story of the Zamzam's sinking. Fortune's Murphy wrote the words; some of Scherman's smuggled photographs accompanied the text. The issue of Life magazine in which this piece appears also contains extraordinary photographs of the sinking of the German battleship Bismarck.
The Atlantis had captured or destroyed more than 20 enemy (mostly British, as America had not yet entered the war) ships in little under two years, and the British were keen to destroy it. Thanks to Scherman's photos, they were now able to identify her and, on November 22, 1941 the British cruiser HMS Devonshire blasted her to the bottom.
Time Line:
April 17, 1941. Atlantis sinks Zamzam.
June 23, 1941. Life magazine publishes long illustrated article on the sinking.
November 22, 1941. HMS Devonshire sinks Atlantis.
December 7, 1941. Japan attacks Pearl Harbor. America enters the war in the Pacific and Europe.
---
Wheaton College in Norton, Massachusetts, U.S.A. has a vast Zamzam archive.