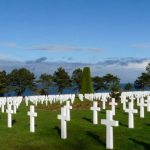 American soldiers killed in battle were often, and often routinely, buried with Christian gravestones—even if they were Jewish.
Such mistakes are now being identified and corrected.
In early September 1944, Mrs Blanche Garadetsky received a telegram telling her that her son, Pfc Benjamin Garadetsky, had been killed in action on August 23.
Part of the massive D-Day landing force, he was killed in a Luftwaffe bombing raid. He was 30 years old.
Although he had registered with the National Jewish Welfare Board when he enlisted, Pfc. Garadetsky was buried in a Christian grave in the Normandy American Cemetery and Memorial in Colleville-sur-Mer, France. However, his distinctive surname led, years later, to the unravelling of this mistake, and the beginning of a movement to correct similar errors.
Alerted by a friend who had visited the cemetery, Shalom Lamm, an American amateur historian, researched Garadetsky's background. He'd been born in Zhitomir, part of Russia at the time, part of Ukraine today. His father emigrated to America, followed by his wife, son and daughter a few years later.
For Lamm, finding the historical Garadetsky documents that established the soldier's actual religion was only the start. He then had to persuade the American Battle Monuments Commission to change the cross to a Star of David, Lamm details this effort on the Operation Benjamin website
Operation Benjamin was instrumental in the 2020 ceremony at the Manila American Cemetery and Memorial in the Philippines when the graves of five Jewish soldiers were rededicated in a single ceremony.
"While we might never know exactly how the errors to their narratives were made — whether it was the chaos of conflict, a clerical error or personal omission due to the persecution of the Jewish people by the enemy — today, we erased those errors," said William M. Matz, secretary of the American Battle Monuments Commission, who presided over the ceremony. (ABMC website)
###