Concentration Camps Cost Extra
A London wax museum mounted this extraordinary exhibition several months before Germany surrendered—and before Auschwitz was liberated.
You pay your money, you get your choice: normal admission entitles you to Cinderella and Snow White. Pay extra for lynching and Buchenwald.
6D (six pence) got you into the museum at 60 Oxford Street, and an additional 6d allowed you to see the special Concentration Camps exhibition.
Eastern horror show in London's West End
Wolf Suschitzky (1912-2016), a Viennese Jewish photographer who fled the Nazis in 1933 and settled in London, was particularly interested in London street scenes.
"This is the only obscene photograph I have ever taken," he explained. "Walking one day along Oxford Street toward Charing Cross Road, I came upon this shop front. I was too revolted to go in and investigate." (Quoted in German-speaking Exiles in the Performing Arts in Britain after 1933, edited by Charmian Brinson and Richard Dove.)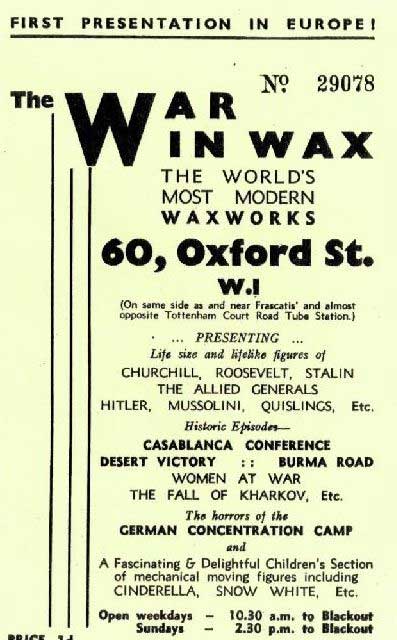 When Suschitzky came upon this wax museum exhibition in January 1945, only one major concentration camp had been liberated: six months earlier, in July 1944, the Red Army overran Majdanek, near Lublin in Poland.
The Red Army also liberated Auschwitz, at the end of January 1945. The London waxwork version of the camps had been prepared before Auschwitz was liberated.